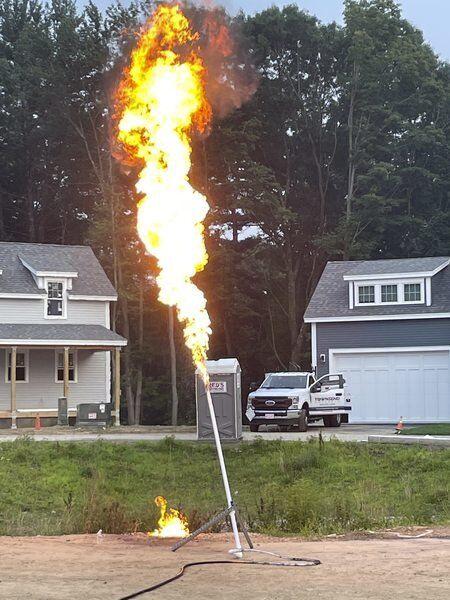 West Newbury families evacuated after propane gas leak | Local News
WEST NEWBURY – Approximately 10 families had to evacuate their homes Monday afternoon and evening after a construction vehicle damaged an underground propane tank near the Drakes Landing complex on Daley Drive around noon, according to fire chief Michael Dwyer.
Dwyer said the construction vehicle cut off the refill section of the 800-gallon tank, the only above-ground part, resulting in a gas leak.
As a precautionary measure, nearby families have been evacuated and part of Daley Drive has been closed for about 10 hours. Some families were accommodated in hotels, while others returned after the leak was repaired.
Workers at the propane tank owner, Townsend, attempted to pump the tank but were unsuccessful. Instead, according to Dwyer, they used a gas torch to burn the gas.
"It was a long process, but no one was injured," said Dwyer, adding that the incident was an accident.
Local firefighters were assisted by units from Groveland and a command vehicle from the Amesbury Fire Department. The Newburyport Fire Department covered West Newbury Station during the long call.
Dwyer praised the work of his firefighters and thanked the county departments for their help.
"A great team effort," said Dwyer.