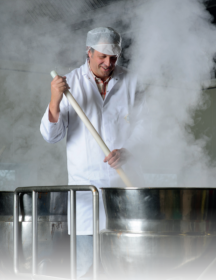 Switch from oil to liquid gas serves up big savings
Published: November 22, 2021
PWE is investigating installing VSRT boilers in a food processing facility, which is expected to cut costs by a substantial 21% while reducing carbon emissions by nearly 25% and nitrogen oxide (NOx) levels by 75%.
UK's leading spice manufacturer Tracklements has increased its production capacity and improved its environmental performance by switching its energy supply from oil to liquefied gas from Flogas. The move to modern, efficient Fulton VSRT liquefied gas-fired boilers is expected to reduce the company's switch from oil to liquefied gas, resulting in significant cost savings of a substantial 21% while reducing CO2 emissions by nearly 25% and nitrous oxide (NOx) levels 75%.
The Wiltshire-based company has been making spices for more than 50 years and has an extensive range of over 60 artisanal products, from mustards, ketchups and sauces to pickles, chutneys, jams and jellies. All "handcrafted in small batches" with natural ingredients are made in unique jacketed steamers that mimic traditional homemade methods and have been powered by two kerosene-fired steam boilers for the past 40 years.
Ben Read, Operations Director at Tracklements, commented, "We needed to increase our steam capacity to support the continued growth of the business." He added, "But we are also fully committed to improving our environmental footprint, so we wanted to Remove ourselves from the higher carbon footprint that oil is. By replacing our aging oil-fired steam boilers with the latest liquefied gas-fired VSRT models, we have not only increased our steam capacity by 100%, but also reduced costs and significantly reduced our CO2 emissions. This was an important factor in our decision as Tracklements continues to work tirelessly towards our goal of environmentally friendly products. "
After working with Fulton for over 40 years, Tracklements reached out to them to specify a state-of-the-art system that would help minimize our environmental impact. Fulton also recommended Flogas as a liquefied petroleum gas supplier – a provider that can provide reliable supply and trustworthy ongoing service. Flogas and Fulton have teamed up to provide Tracklements with an end-to-end turnkey energy solution that also includes all required ancillary equipment as well as service and training contracts.
Jeff Byrne, Aftercare and Business Development Manager at Fulton, commented on the project: "By upgrading its steam generation facilities and switching its fuel to LPG, Tracklements can expect an impressive financial saving of 21% and a reduction in carbon emissions of nearly 25% . These cost savings are based on the current gas oil prices before the planned withdrawal of the tax relief for red diesel in April 2022, so they are even significantly cheaper with a view to the future. Cost and CO2 savings can also be increased by up to 30% when combined with the potential savings in steam system efficiency from operating the latest fully modulating, high control power liquefied gas boilers. Additionally, our liquefied gas fired VSRTs will help minimize other pollutants, with NOx levels expected to decrease by 75% compared to previous oil fired boilers. "
Tracklements has a strong environmental policy and is ISO 14001 certified for its green references. Read on: "We are constantly looking for ways to increase the efficiency of our artisanal manufacturing process and minimize our environmental impact … We are really happy that we have now made a big step in this direction. Liquid gas is also more reliable for our business. Our tanks are equipped with auto-ordering technology so that as soon as they reach 40%, a reorder is triggered. It's a great security and allows us to focus on making great green spices. "
Jude Hurley, Business Energy Manager at Flogas added, "This is a great example of how a simple switch from oil to LPG can have a huge logistical, financial and environmental impact. Not only does the company benefit from a more efficient, more reliable fuel with fewer emissions, but it is also perfectly positioned for a seamless transition to renewable green gas in the future. Bio-propane is chemically identical to liquid gas. So when tracklements become climate neutral, it can simply be added without any changes to equipment or infrastructure. A really sustainable energy solution. "
Flogas Great Britain Ltd
Flogas has over 35 years of experience providing bespoke energy solutions to commercial, industrial and residential customers across the UK. From liquefied petroleum gas and liquefied natural gas to propane enrichment of biomethane – the company supplies high-performance, reliable and cost-effective energy solutions that are precisely tailored to the needs of customers. www.flogas.co.uk/business
https://www.linkedin.com/company/flogas-uk-ltd/
Track elements
Based in the heart of Wiltshire, Tracklements has been making award-winning artisanal condiments for over 50 years. In addition to chutneys, relishes, pickles and sauces, the Tracklements range includes ketchups, jellies, salsas, mustards, fruit cheeses and charcuteriments. It uses only the very best, natural ingredients and works with UK farmers and spice growers from around the world to ensure that Tracklements products taste as good as the best homemade versions. More information is available at www.tracklements.co.uk
https://www.facebook.com/TheTracklementCompany
Fulton
With manufacturing facilities in the US, UK and China, Fulton is a global manufacturer of steam, hydronic and thermal fluid heat transfer systems. With over 60 years of research, innovation and experience, Fulton builds on a successful tradition and focuses on improving service life through heat transfer solutions. More information about Fulton can be found at www.fulton.co.uk
https://www.linkedin.com/company/fulton-boiler-works-gb-limited/