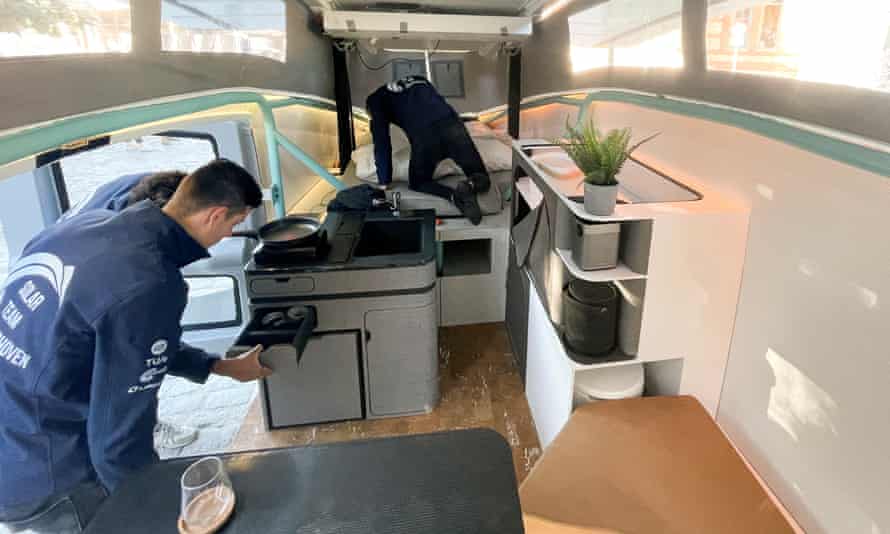 Students' solar-powered camper van turns heads on 1,800-mile road trip | Electric, hybrid and low-emission cars
A team of students from the Netherlands will cover a 3,000 km road trip through Western Europe in a self-designed and built solar-powered mobile home.
The Stella Vita is designed for two passengers and has a kitchen, seating area, bed, shower and toilet. With solar energy alone, the vehicle can travel up to 450 miles on a sunny day, reach a top speed of 120 km / h and power all interior fittings, a television and a laptop.
Sign up for our weekly tech newsletter TechScape.
The vehicle has solar panels on the roof, which can be converted into a sun roof when parked. The van can also be charged via electrical charging connections.
"The technology is there, we just have to change our way of thinking," said 20-year-old Tijn ter Horst, one of the students from the Technical University of Eindhoven on board. "If 22 students can design and build such a vehicle in one year, then companies can certainly do the same."
The road trip, which began on September 19 in Eindhoven and ended on Friday in Tarifa in south-west Spain, was part of the students' own challenge to demonstrate the potential of solar energy.
The interior of the van. Photo: Sergio Pérez / Reuters
This isn't the university's first solar-powered vehicle to compete in the Bridgestone World Solar Challenge, a biennial Australian solar vehicle competition, in 2013. "There was no competition this year, so the students set their own goals and challenges," said Dr. Carlo van der Weijer, team coordinator.
While previous Eindhoven teams won consecutive competitions with their five-seater designs, Van der Weijer believes the commercial appetite for the RV could be greater. Environmentally conscious camping enthusiasts could be tempted by an electric van that doesn't rely on charging points that are in short supply in many places, he said.
According to the students, the Stella Vita was a hit on Spanish roads and attracted the attention of other drivers, and Van der Weijer said the vehicle was an option even in less sun-exposed locations.
"On a cloudy day, the vehicle can still produce 60-70% of the energy," he said. "And even when the sun isn't shining at all, you still have an efficient, normal electric car that can be charged at a charging point."