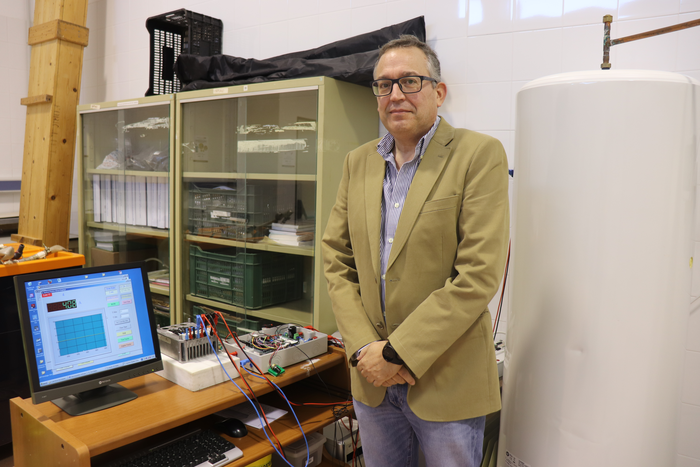 Photovoltaic solar heating system uses 95% of
Image: Luis Cámara-Díaz, senior researcher
outlook more
Credit: University of Cordoba
A research team from the University of Cordoba has developed a sustainable photovoltaic solar device that can heat water up to 80 degrees – just like a normal electric heater
A significant part of the energy consumption of buildings is used for hot water preparation. Photovoltaic solar heating can be viewed as a clean and renewable energy option. Easy to install, quiet and low maintenance, it also prevents the consumption of fossil fuels normally used for this process. Now a research group from the University of Cordoba has developed a photovoltaic solar heating system that uses 95.06% of the available energy for hot water.
The prototype they designed manages to heat the water to 80 degrees, just like a normal electric heater. No type of waste or pollutants are generated during this process. Compared to solar thermal, which requires a hydraulic installation, this model would only use an electrical box, similar to traditional houses, to which solar panels and a traditional two-wire electric water heater are connected. "It's a much more versatile, sustainable and economical model that only causes an energy loss of 5%," explained Chief Investigator Luis Cámara-Díaz.
This new system is specifically focused on water heating, but could be applied to commercial and industrial use, according to Cámara-Díaz. The heating process is based on thermal electrical resistances that are operated by photovoltaic solar energy. "Conventional hot water storage tanks have an electrical resistance inside, which generates heat when connected to electricity. We call this thermal resistor added. In this way, the existing solar energy is converted into photovoltaics, which can be used for heating at any time of the day. The water tank acts as an accumulator for all of the daily energy, so there is no need to install batteries.
A breakthrough in this inexpensive electronic system is that it is possible to convert the existing photovoltaic energy into heat, regardless of whether the existing solar radiation is high or low.
In addition, its installation does not require a large number of solar panels, nor does it need to be connected to the electricity grid. And it complies with the safety measures just like any other electrical / electronic device, according to the researcher. The device is currently in the experimental phase with the prospect of future commercialization. One of the advances the research team is also working on is applying artificial intelligence to this device to improve the security and monitoring of the system.
###
reference
Cámara-Díaz, Luis, José Ramírez-Faz, Rafael López-Luque and Francisco J. Casares 2021. "A cost-effective and efficient electronic design for photovoltaic systems for solar hot water production". Sustainability 13, No. 18: 10270.https: //doi.org/10.3390/su131810270
Article heading
A cost-effective and efficient electronic design for photovoltaic systems for solar hot water preparation
Publication date of the article
14.09.2021
Disclaimer: AAAS and EurekAlert! are not responsible for the accuracy of press releases sent to EurekAlert! by contributing institutions or for the use of information via the EurekAlert system.