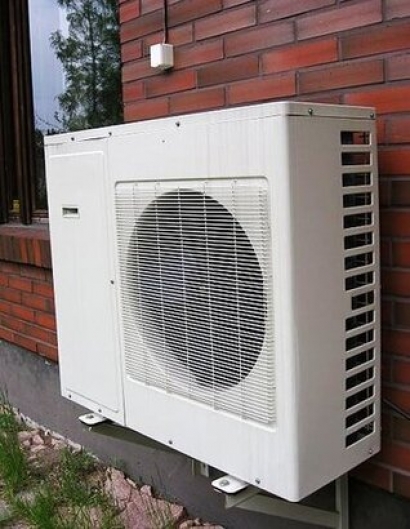 Miscellaneous – Daikin invests to take advantage of growth acceleration in European heat pumps
The company is responding by investing in production and innovation capacity, warehousing and logistics as well as increased training for installers and service technicians across the EMEA region. Daikin Europe's Heating & Renewables business unit is growing rapidly, outperforming the European heat pump category.
"With ambitious investments in production capacity and research and development, Daikin Europe can expand its market and product leadership," said Patrick Crombez, General Manager Heating and Renewables at Daikin Europe. "The conversion of our heating systems to heat pumps represents a historic conversion to low-CO2 heating, with advantages for climate change, but also for a healthier living environment. We are proud to lead this transformation in Europe. 2021 was a turning point for heat pumps for us. Consumers and policymakers have never been more anxious to decarbonise heating systems. From all available data it is clear that the introduction of heat pumps is reaching a tipping point this year and is only accelerating the already robust growth of the category. "
Over the past decade, the European heat pump market has grown rapidly with an annual growth rate of 10 percent (CAGR) from 2011 to 2020, resulting in an expected installation of 1 million heat pumps in 2021, Daikin expects – in line with other industry experts – a sharp acceleration in the introduction of heat pumps. By 2030, 4 million heat pumps will be installed annually, which corresponds to an annual growth rate (CAGR) of 20 percent.
At this point in time, 1 in 3 heating systems installed will be a heat pump, compared to 1 in 10 in 2020. Although this represents strong growth compared to the last few years, Daikin Europe regards this as the minimum to allow a move to a decarbonised living environment ensure heating market in Europe.
A major driver of the growth of heat pumps has been the introduction of laws for new buildings in many European countries, ranging from general regulations in France such as RT2012 (which sets a new minimum standard for thermal insulation in dwellings) to the ban on combustion boilers in the Netherlands .
In addition, incentives in France, Germany and Italy have successfully increased the attractiveness of heat pumps in the replacement and renovation market.
At the same time, heat pump technology has evolved to make heat pumps an attractive option: the introduction of "high temperature" heat pumps means that existing fossil fuel boilers can be replaced without upgrading or modifying existing radiators.
In the coming years, market leader Daikin aims to more than triple its European heat production and expects its heating business to become one of the main pillars of Daikin's sales by 2025.
5 out of 14 Daikins EMEA factories are already dedicated to heat pump production. All Daikin heat pumps sold in Europe are developed and produced in Europe, with the main Daikin plants in Germany, Belgium and the Czech Republic.
A recently announced investment plan for the next 5 years calls for a substantial investment in the heat pumps category.
Part of the investment is aimed at expanding production capacity to keep pace with demand. Another investment area is the planned construction of a state-of-the-art European Development Center (EDC) development complex in Ghent, Belgium, which will enable Daikin to strengthen its innovation leadership and enable faster and broader development of heat pumps. The EDC complex represents an investment of 140 million euros, will provide 380 on-site jobs and will also act as a global Daikin center for the development of heating products.
In 2021, Daikin Europe heat pumps will produce 1.5 million units (which includes EU-made water heat pumps for residential, commercial and industrial use). The company currently processes around 71,000 deliveries per day in its 30 warehouses across Europe and is ready to scale this according to needs. It also provides support and training to installers in 54 training centers across Europe. The training courses range from introductory courses on installing heat pumps and direct expansion technology to advanced troubleshooting courses and service checks for new products.
Daikin Europe Heating and Renewables' investments and growth plans fit in with its vision of decarbonising residential heating across Europe. As the heating of residential buildings on the basis of fossil fuels makes a significant contribution to greenhouse gas emissions, this transformation will enable Europe to achieve its ambitious emissions reduction targets for 2030.
For more information:
Daikin Europe