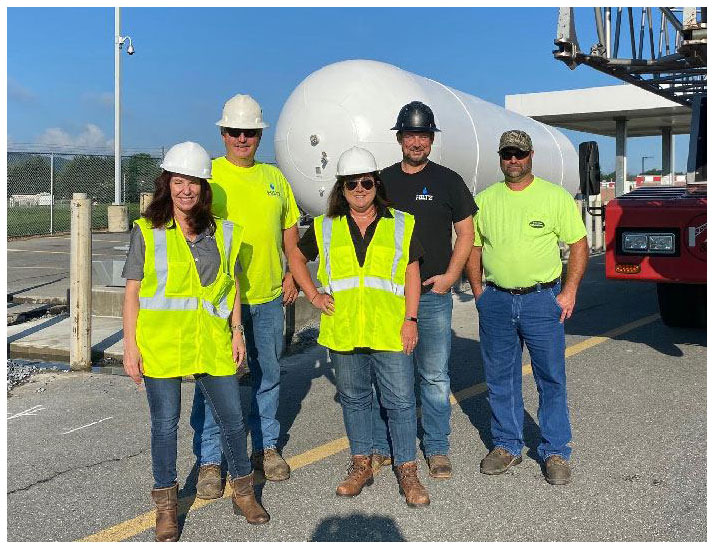 Marketing Propane for Outdoor Living
Propane offers serious advantages. Unlike natural gas, it is a stand-alone source, not part of a network. Propane is often a cheaper alternative to electrical heat. After all, propane is a domestically produced fuel that minimizes greenhouse gas emissions.
The fact is, however, that most households heat with natural gas. How does a regional energy company use propane to drive growth? The story of Rhoads Energy, a utility company in south-central Pennsylvania, offers lessons on how to build a profitable propane business from the ground up. It also reveals a lot about propane's untapped potential and the value of creative thinking.
A key piece of the full-service puzzle
Rhoads Energy is a 100 year old company that has reinvented itself over the past 15 years. At the beginning of the 2000s, the company was still primarily concentrating on a shrinking energy market segment: heating oil.
With an aggressive plan to become a full-service energy provider, the Rhoads Energy family of companies today serves tens of thousands of customers, providing a range of fuels, heating, ventilation, and air conditioning (HVAC) service and installation, fleet refueling, and more . Another important element in the company's renaissance: propane.
At the end of 2013, the company set up a division for propane and propane equipment sales. Since then, it has grown into a valuable source of income, driving the growth in customers served and gallons shipped year after year.
Lay the foundation
As in most of the United States, the percentage of households in Pennsylvania that use propane for heating is relatively small (about 5% versus more than 50% for natural gas).
However, that number represents 220,000 propane households in the state – a sizable market.
Initially, Rhoads Energy focused on the marketing aimed at building a customer base for residential heating, highlighting the company's ability to not only supply propane but also maintain and install propane heating systems.
"We wanted our propane customers to understand that Rhoads Energy can be a one-stop shop for all of their energy needs," said Michael DeBerdine, CEO of Rhoads Energy. "We also have a decades-long reputation for service and community engagement, so it was important to get this brand across to our new propane customers."
The company differentiated itself from the competition in other ways by allowing customers to choose between a leased or purchased fuel option, and by eliminating registration, shipping, and dangerous goods fees. They also developed the "Bundle Up" program, which offered a budget payment plan and service contract.
The company also marketed its sizeable existing customer base, emphasizing the versatility, portability, and value of propane for electrically heated homes and homeowners whose oil heating systems were reaching the end of their life.
In just a few short years, Rhoads Energy and its partner brands had thousands of customers using propane to heat residential buildings – but that was just the beginning.
Year-round gallons: harnessing the versatility
When the company launched its propane offering, the goal was not just to sell during the cold season, but to develop a program that would increase sales each season.
"The idea of ​​becoming a full service energy company was to break away from the typical revenue cycles that threaten so many companies in our industry," DeBerdine said. "We challenged our team to find new ways to meet our goal of selling gallons of propane year-round."
The brainstorming session resulted in new offerings that would appeal to a wide range of homeowners – not just existing propane users. The company developed a large-scale marketing campaign to promote the benefits of propane gas-powered water heaters, home generators, and other products.
The company also focused on promoting propane as a fuel for outdoor living: propane fire pits, outdoor stovetops, pool and spa heaters, and more. This focus is supported by important trends. A recent survey found that 90% of Americans with outdoor living space make better use of their decks, porches, and patios and consider their outdoor living space to be more valuable than ever.
Still, a large majority (88%) of those surveyed by the International Casual Furnishings Association say they are dissatisfied with their outdoor living space, with around half expressing a desire for an outdoor fireplace or cooking facilities.
The Rhoads Energy marketing team developed video, web and print content to support their outdoor life program and spread their messages through social media, email marketing, a referral program and more. The team also sought alliances with local home appliances, pool companies, local construction companies, and real estate agents to generate leads for one another.
The result was the establishment of a new revenue stream for the company and the delivery of those "year-round gallons" during the summer season when sales traditionally decline sharply.
New ideas, more gallons
The propane supply for private households remains the basis of the Rhoads Energy program. But the company is also working hard to identify and pursue growth opportunities. "It started with our team asking questions about our specific marketplace," DeBerdine said. "What types of customers use propane? Where were the underserved? How could our willingness to take a creative approach help them? "
The answers led to new partnerships and new ways to create value. Below are a few examples where propane's portability and flexibility drove growth:
Rhoads began marketing to the region's sizable agriculture, supplying propane for grain drying, as well as poultry and dairy farmers who rely on heat for production.
The company benefited from a resilient home construction market and served contractors who needed propane heating on site to work in colder weather and drywall.
Propane's portability also led to large commercial construction projects where tanks could be placed in different locations on large construction sites and then moved to another location if necessary.
In 2014, the company took a bold move to secure business in a still emerging market. Rhoads started a service aimed at school districts that wanted to convert their bus fleets to propane LPG. The company built the program through partnerships with bus manufacturers and associations and by being in constant contact to educate the area's counties about the potential environmental and financial benefits of propane buses.
These early-to-market efforts paid off for Rhoads Energy, which now ships hundreds of thousands of gallons annually to five different districts. The company also used propane for its own operations – a way to show prospects that Rhoads Energy was ready to "follow the talk". Today around 20% of the company's fleet runs on LPG, including service trucks, crane trucks and SUVs. Rhoads Energy also installed propane filling stations at three company owned properties.
knowledge gained
The Rhoads Energy experience has not been without its setbacks and challenges. But the company's commitment to building a propane business ultimately provided the coveted year-round gallons and the potential for much shorter-term growth in the future.
The company's leadership and marketing team identified a few guiding principles that may be useful to other vendors facing the same challenge. First, be creative. Get out of your comfort zone and think about how your market is using – or, more importantly, underusing – propane.
Next, get help. Identify potential partners in your community and take advantage of all available resources from state and national organizations. Be sure to recognize and leverage the value of your company's current assets: your brand, your existing customer base, the talents of your existing employees, and more.
Finally, increase the effort with consistent communication with customers and prospects. Help them understand the benefits of propane, new ways it can be used, and what sets your business apart.