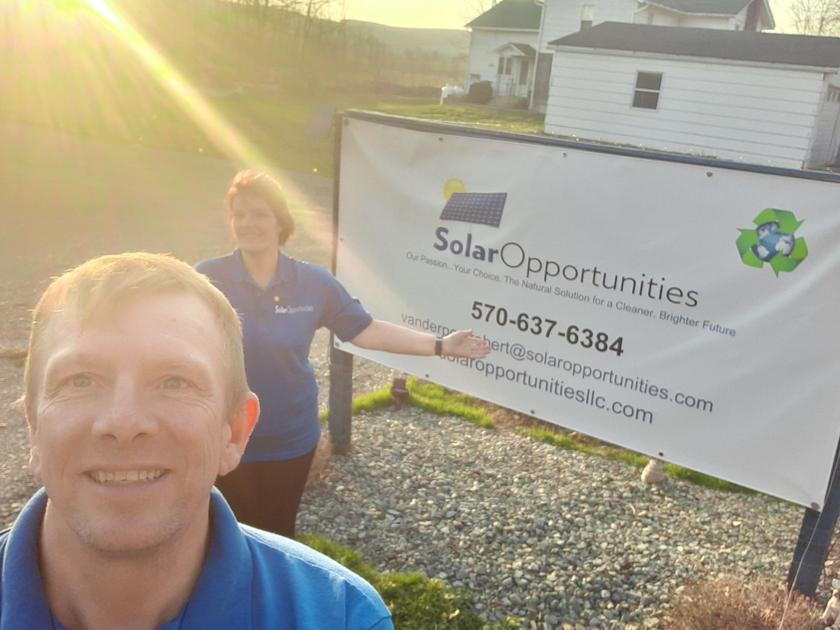 Local solar business owner: State's solar push not replacing traditional energy, but expanding opportunities | Local/Regional
When it comes to the recent push for alternative energy in Harrisburg, a local solar entrepreneur says it's not so much about getting rid of traditional energy sources, but about alternatives that can help reduce emissions while adding additional employment opportunities in the wind and solar sectors.
Robert Vanderpool started Solar Opportunities last summer at Sheshequin Road 2201 out of a passion for technology that began as an occasional interest and grew as he became a customer.
"I had it put on my house and then I started to see the benefits of it," said Vanderpool. "And the technology that comes with it today is just amazing."
Vanderpool's business has installed solar systems on properties south of Williamsport and north of Candor, New York State. There are currently three projects in the works, along with a showroom / shop he plans to open this summer.
Last month, Governor Tom Wolf announced a plan to deliver nearly 50% of the state government's electricity through seven solar panels to be built in different parts of the country. The project is scheduled to go online on January 1, 2023.
Shortly thereafter, the states of Sens. Dan Laughlin (R-49) and Art Haywood (D-4) introduced laws requiring utility companies to obtain 18% of their electricity from alternative energy sources by 2026, including 5.5% from solar energy sources. According to the current standard for alternative energy portfolios, electricity suppliers are currently required to provide 8% of energy from alternative sources, including 0.5% solar energy. These values ​​would remain constant if the current AEPS was allowed to expire next month.
"Renewable energies create jobs, save farmers and can help us save the planet," said Haywood. "We firmly believe that this proposal could be one of the biggest bills for economic development and employment incentives in decades."
The Senators noted that neighboring states of New Jersey, Delaware, Maryland, New York, and most of the states of New England have set a goal of alternatively supplying 50% of their electricity by 2030, while Virginia is demanding 100% clean energy by 2050.
In response to the governor's proposal, Senator Gene Yaw said, "I've said repeatedly that I prefer a diverse energy portfolio. I am not against a source of energy. I am against not realizing what "clean" energy really means. There is a manufacturing process that is completely ignored. In addition, the intermittent nature of wind and sun requires a dual generation system powered by coal, gas, or nuclear power. "
Yaw's criticism also included concerns about whether there would be enough open space for solar power expansion, since it would take 12,000 acres of panels to match the performance of two combined cycle gas-fired power plants that take up 40 acres.
"I understand what he's saying and I want to remind everyone once again that it's not like we're just taking over and this is going to be a gas and oil free country in 10 years – that's not going to happen," Vanderpool said who had previously reached out to both Yaw and Rep. Tina Pickett (R-110) on solar energy. "We want to minimize and use this huge fireball in the sky. It is there. Why not use it?" Besides, this would future Providing a better environment for generations.
Vanderpool looks forward to a future with an increasing reliance on solar – and the ability to help provide that energy supply. He also hopes to one day hold forums to educate the community more about the technology.
One misconception he highlighted was that solar doesn't work as well in Pennsylvania's cooler climates, but he said that cooler temperatures actually help the solar panels work better.
The recently introduced legislation to expand the AEPS was supported by groups such as the Solar United Neighbors, which include Vanderpool.