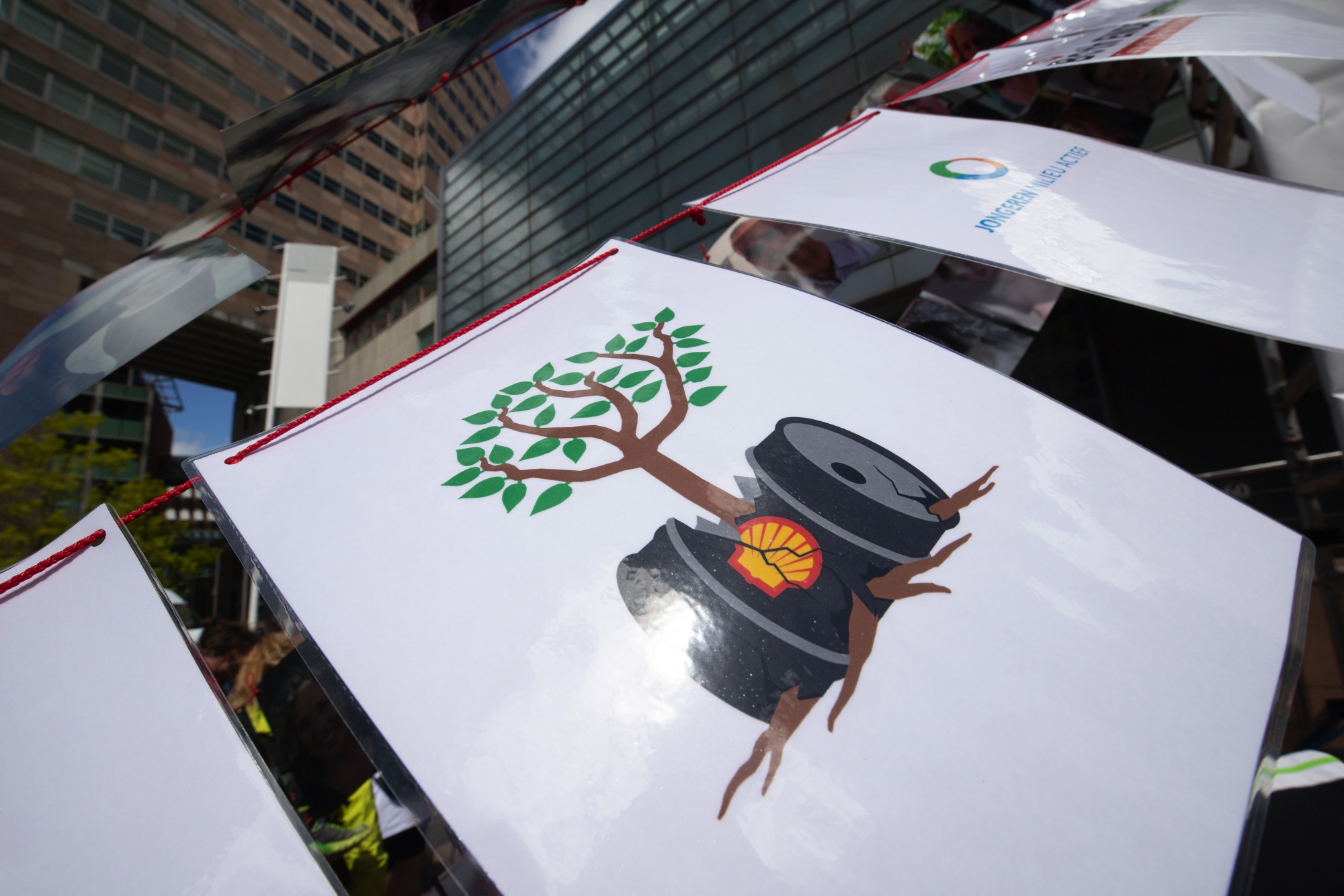 Green Activism Puts Big Oil Over a Barrel
It was a milestone for the global environmental movement.
A court in the Netherlands yesterday ordered Royal Dutch Shell to cut emissions harder and faster than planned. Investors in Exxon Mobil won two directorships and pledged to encourage the energy giant to diversify beyond oil and fight climate change. Chevron shareholders backed a proposal to force the company to reduce pollution from its customers.
Kevin Crowley writes that the climate movement has become mainstream after limiting itself to waving posters outside of annual corporate meetings. Some of the world's largest institutional investors are now on board.
But it's a race against time. Laura Millan Lombrana writes that the final year, which is linked to 2016 as the hottest in history, and the acceleration of man-made warming are leading to rising sea levels, melting ice and extreme weather events.
As much as the world has welcomed US President Joe Biden's decision to re-accede to the Paris Agreement, the fact is that national commitments to reduce greenhouse gas emissions overall are not in line with what is required to meet that agreement. Important unsolved problems such as creating an international carbon market to weigh on emissions remain.
And environmentalists are still facing setbacks: One of Australia's top coal producers has just won a lawsuit against a nun and Greta Thunberg-inspired teenagers over a mine expansion. The Biden Justice Department is also defending approval of a massive Conoco project in Alaska in federal court by its predecessor Donald Trump.
However, there is no longer any doubt that public and institutional pressures are fueling the momentum for policy change.
The question is whether it will be implemented quickly enough to contain the damage to the planet. – Karl Maier
A protest banner of the environmental organization MilieuDefensie against Royal Dutch Shell yesterday in The Hague.
Photographer: Peter Boer / Bloomberg
Click here to follow Bloomberg Politics on Facebook and let us know how we're doing or what's missing at [email protected]
Global headlines
Take off gloves | The era of US engagement in China is over and a period of intense competition is beginning, said the top White House official for Asia. The change in US policy comes as President Xi Jinping gets tighter grip on the world's second largest economy and the two countries clash in disputes ranging from Beijing's claims about the South China Sea and human rights in the Xinjiang region to the future of Taiwan and Taiwan's rich Hong Kong.
Biden called on U.S. intelligence agencies to redouble their efforts to find the source of Covid-19 in an attempt to breathe new life into claims the virus escaped a Chinese laboratory and reopen a rift with Beijing.
In and out | US Secretary of State Antony Blinken pledged to provide US $ 100 million in aid to Palestinians during his hurricane visit to Israel, the West Bank, Egypt and Jordan. But, as Nick Wadhams writes, given US foreign policy interests centered on reviving the Iranian nuclear deal and strategically competing with China, Washington has little appetite for greater efforts to address the underlying source of tension between To resolve Israel and Gaza.
Competency question | Boris Johnson is fighting a serious attack on his authority after his former chief adviser declared the UK Prime Minister unable to work. During nearly seven hours of testifying to lawmakers, Dominic Cummings cataloged the government's "catastrophic" pandemic failures and what he said were Johnson's leadership mistakes. "Tens of thousands of people died who didn't have to," he said.

Seychelles became known on the internet as the most vaccinated nation on earth, but to the surprise of virologists, the number of infections has risen. The tiny nation has become a test case for two of the world's most widely used vaccines.
Transplant scandal | Turkish President Recep Tayyip Erdogan is faced with an unpleasant truth: his ruling party now depends on an ally of the fringe coalition to maintain its dominance. In addition, a series of corruption allegations by a fugitive mafia boss could further undermine his declining popularity, reports Onur Ant, as members of Erdogan's own party, who support the opposition, demand an investigation into the allegations of influence.
Women at work | Keeping women at home is a luxury that the world's largest crude oil exporter can no longer afford. The economic overhaul of Saudi Arabia by Crown Prince Mohammed bin Salman to prepare the kingdom for a post-oil future means families are increasingly dependent on working women, explains Vivian Nereim.
Something to see
US Trade Representative Katherine Tai and Chinese Vice Prime Minister Liu He had an "open" initial conversation today as both sides attempt to resolve some of their trade disparities.
EU leaders Ursula von der Leyen and Charles Michel are holding their first video conference with Japanese Prime Minister Yoshihide Suga today.
Mali's interim president resigned the day after his deputy took power in the West African nation's second coup in less than a year.
Hong Kong lawmakers approved sweeping changes to the city's electoral system mandated by the Chinese leadership, drastically limiting the ability of dissenters to participate in government.
France announced new restrictions on arrivals from the UK as of May 31st to fend off the coronavirus variant first identified in India.
And finally … The promise of more security and economic opportunities, not warmer words from Biden, drives Central American migrants to make arduous journeys to the US border, report Mario Parker, Maria Eloisa Capurro and Jordan Fabian. Republican lawmakers accuse the president of fueling a record influx of migrants with a more sympathetic tone than Trump. In El Salvador, Guatemala and Honduras, however, crime, deprivation, natural disasters and people smuggling rings are doing much more to stimulate the recovery.

A migrant is arrested after entering the United States on May 16 in La Joya, Texas.
Photographer: Jonathan Alpeyrie / Bloomberg
– With support from Anthony Halpin, Alan Crawford, Ruth Pollard, and Gordon Bell