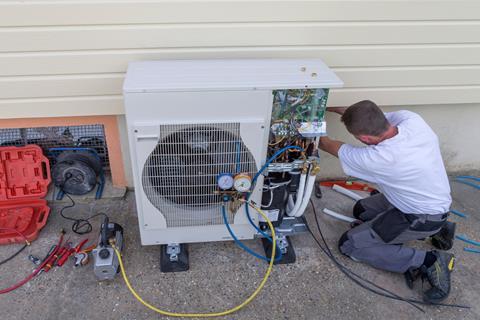 Government considering £7,000 grants for heat pumps | News
Homeowners could get grants of at least £ 7,000 to replace their gas boilers with heat pumps, according to plans considered by Boris Johnson.
The government is expected to massively expand an existing program called Clean Heat Grants to encourage the adoption of low-carbon alternatives to traditional heating systems.
The £ 100 million program, slated to start in April, is currently run for two years and offers grants of up to £ 4,000.
But the Times said it had been said that Johnson would like to quadruple funding for the program to £ 400 million, extend its duration to three years and increase its startup grant to £ 7,000.
The government is also set to prepare a major publicity campaign for the new program to encourage people to replace their gas boilers, with Johnson targeting an announcement in the fall ahead of the COP26 climate change conference in November.
The plans could help incentivize the installation of nearly 60,000 heat pumps within three years. The government aims to have at least 600,000 installed each year by 2028.
Ministers have admitted, however, that they face the challenge of convincing homeowners to install the systems, which are currently much more expensive than gas boilers and can be more expensive to run.
While gas boilers cost around £ 1,000, air heat pumps cost between £ 7,000 and £ 14,000, while geothermal heat pumps cost between £ 15,000 and £ 35,000.
Laura Bishop, director of renewable energy engineering firm Infinitas Design and chair of the Ground Source Heat Pump Association, said she welcomed the news that the government is looking to increase its support for heat pumps.
She said, "We understand that the current cost of installing a geothermal heat pump far exceeds that of a gas boiler systems".
She added that the move "would be a reflection of the government understanding the need to reduce costs through greater use of heat pumps".
Bishop previously said that "hard decisions" would have to be made if the government is to cut carbon emissions to achieve net-zero emissions by 2050.
The cost of installing heat pumps has been further increased by the limited number of trained installers. According to a report by EY, there are only 1,200 versus nearly 10,000 who would have to qualify within the next four years to meet current goals.
Last week, the heat pump association started a three-day course that provides a recognized qualification for plumbing and heating specialists for the installation of heat pumps.