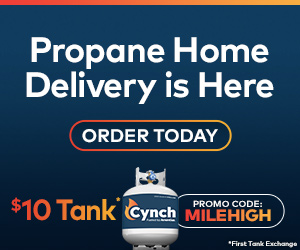 Fire Up the Grills for the End of Summer with Propane Delivery by Cynch! |
It's easy to get lost in the hustle and bustle of summer, but a glance at the calendar reveals that summer is drawing to a close. That means now is the best time to plan your late summer get-togethers with family and friends. Whether it's an afternoon pool party with a burger on the grill or an evening get-together at the fire table, there are many activities that can be made even better with propane. The cleanliness and convenience of propane can fuel your grills, fire tables, and patio lights with minimal preparation. Even better, there is little to no cleanup when your guests leave. The only problem is all the effort it takes to replace your empty propane tank with a fresh one. Drag the tank to your car, drive to a local supermarket, exchange it, bring the fresh tank to your car, drive it home and carry it back? Who has time? Fortunately, you don't have to anymore.
Our friends from Cynch, propane delivery service, come to your home, pick up your used tank and park a fresh tank at the location of your choice – whether in front of your front door, veranda or driveway. Not a lengthy process full of physical exertion. They provide a fresh propane tank to meet your entertainment and grilling needs when the summer draws to a close. As a new Cynch customer, you can now get your first tank exchange delivered for just $ 10 by using our promo code MILEHIGH when checking out. The best part about this offer is that the cost of your first Cynch tank swap is less than half what you would pay for a swap at your local grocery store or hardware store. In just 5 easy steps you will have your propane tanks right at your door. How easy is it
Go to www.cynch.com.
Enter your zip code.
Order your tanks.
Select a delivery date.
Have your used tanks ready for exchange.

It's a straightforward process that will give you some free time in the end.
With the limited time remaining in summer and the likelihood you've used a decent amount of propane in your tank, grabbing and rattling is more important than ever. This, of course, is the informal way of checking your tank's propane level. If it feels light, it's probably time to replace it. The last thing you want is to see your afternoon BBQ or fire table evening derail from an empty propane tank. With Cynch propane, there's no need to let this happen to you. Cynch will endure the stress and physical exertion that have become synonymous with propane exchange. Cynch delivers a fresh tank to you on your schedule when you need it most. Think of all the time you will save by having your propane delivered by Cynch. What are you going to do with all the newly gained "me-time"?
You may not have a replacement propane tank. You may want to add an extra propane tank to your rotation. Great news! Cynch delivers a fresh, no-exchange tank for just $ 59.99.
The cooler evening weather at the end of summer means there are plenty of opportunities on the patio around the fire table to hang out with the friends and family who matter most to you. Gather around a fire table without the hassle of chopping wood and removing the gross ashes after the meeting. Cynch can supply propane to fuel your clean fire pit on your schedule with their hassle-free delivery service. The minimal preparation for using propane makes it a great option for spontaneous get-togethers with friends and family as opposed to wood-burning alternatives!
Our friends at Cynch are the best in the business when it comes to the many uses of propane. Their incredibly affordable and convenient propane delivery service sets them apart from other competitors in the industry. Once you have created your Cynch account, future orders can be placed even more easily through the convenient portal.
Cynch strives to make your propane delivery hassle-free. So sit back and enjoy the convenience of having the tank delivered while someone else does all the heavy lifting for you. Go to Cynch.com to get started. What are we grilling now? Try them out today with our promo code MILEHIGH. *
*possibly. plus sales tax. Valid until 09/30/21. Offer is only valid in Cynch service areas. Certain restrictions apply. Click here for details.