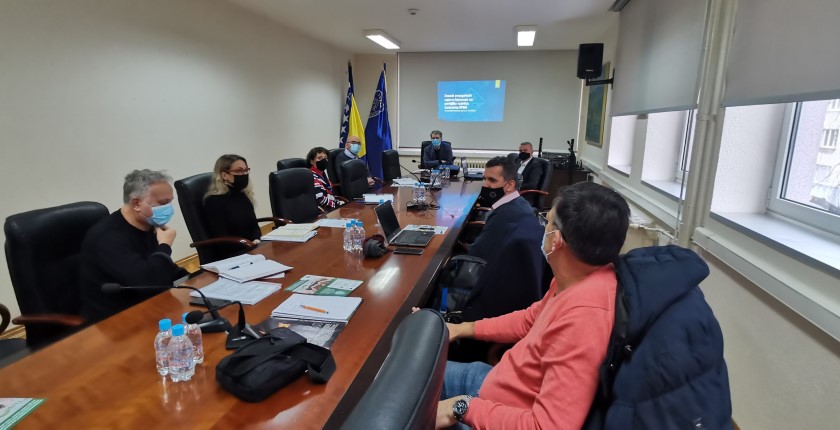 EPBiH to build 56 MW solar park on coal plant's ash, slag dump in Tuzla
The state energy supplier Elektroprivreda Bosne i Hercegovine (EPBiH) is preparing the installation of a photovoltaic system with 56 MW on the site of an ash and slag dump of the Tuzla coal-fired power plant in the north of Bosnia and Herzegovina.
Elektroprivreda BiH CEO Admir Andelija and other company representatives spoke to the mayor of Tuzla, Jasmin Imamović, and his team about the utility's plan to build a 56 MW solar park called Divkovići 1 and 2 on the site of an ash and slag dump within the city to build complex of thermal power station Tuzla.
Local officials agreed that the city's zoning plan and canton of Tuzla's spatial plan should be changed to allow the renewable energy facility to be built, the state-owned company said. According to EPBiH, Imamović and his staff have also expressed their support for the desulphurisation project for Unit 6 in the Tuzla coal-fired power plant.
Expansion of the biomass project on coal mine site
The utility also presented its project to grow biomass on the land of its coal mines, as well as its other activities related to decarbonising the energy sector and a just transition of regions where the local economy is still dependent on fossil fuels. Rapidly growing pasture is intended to partially replace coal in thermal power plants.
Rapidly growing pasture is intended to partially replace coal in thermal power plants
The trees will be planted on one hectare each in Kreka and Breza, and a total of 15 hectares will be added in Kreka, Breza and Đurđevik. Elektroprivreda Srbije from neighboring Serbia is implementing the same project.
"It is very important for us that Elektroprivreda BiH diversifies the growth directions and adjusts to the inevitable decarbonization. It is important for us to have a strong EPBiH as a prerequisite for Bosnia and Herzegovina's energy independence. It is important to us to have high-quality heating in Tuzla, while clean air is particularly important to us, "said Mayor Imamović.
Decarbonization trend in the coal sector
Companies that produce coal and operate thermal power plants are working on converting to other energy sources. The trend also gained momentum in Southeastern Europe, particularly in the rehabilitation of landfills and their use, as well as exhausted open-cast coal mines for the construction of wind and solar parks.
However, the EPBiH is not giving up the construction of two coal-fired power plants.
The Republic of Srpska, BiH's other entity, plans to install utility-scale solar power plants on disused opencast mines in the RiTE Ugljevik coal mining and power generation complex, which operates as part of the state-controlled utility Elektroprivreda Republike Srpske (ERS).

Post views:
1